News - Links - Media - Download this site
"

Pylon

was and always will be Vanessa, Randy, Michael, and Curtis."
Table of Contents
Pylon

News

2023-01-12: Pylon's Facebook is active. Vinyl Box, CD Box and merch continue to be available; there were restocks after occasional sellouts (example), so keep checking if you miss an opportunity.

2020-11-09: Surrounding Pylon Box's release, there is a boatload of reviews, interviews and retrospectives. While we log a few in the Pages section, the best place to follow is Pylon's Facebook.

2020-11-05: "Vinyl Box is now sold out [black vinyl since restocked] [at New West Records], but CD Box has been added [available 2021-03-25; pre-orders accepted] due to popular demand." Also:

2020-09-01: We won't last forever, but maybe this site will. Download your own copy! pylon.pyrzqxgl.com.tar.gz (37Mbytes)

2020-08-27: Pylon has a new website and URL: https://pylon.band and hey! there is a snazzy box set and other swag due on 2020-11-06. Lots of pre-order/buying options are available. Facebook page is still going strong.

2020-03-23: Cool Town: How Athens, Georgia, Launched Alternative Music and Changed American Culture by Grace Elizabeth Hale was published.

2016-10-26: Pylon's Facebook is active, with news about Pylon Reenactment Society, media mentions, the release of Live, serendipity and more.

2016-02-15: We recently noticed that Vanessa is touring as Pylon Reenactment Society.
---
Subject: New 

Pylon

 single now available!
Date: Tue, 28 Jun 2011 16:33:16 -0500
From: 

Pylon

 <hello@wearepylon.com>
Hey, guess what?! Our new DFA release is available today!
It's called "Cover+Remix" and is available as a 2-song 7-inch vinyl single or a 3-song digital download.
The A-sdie is Deerhunter's cover of Cool.
The B-side is Calvinist (Sasha Frere-Jones and Alexis Krauss) remix of Yo-Yo.
Both sides are awesome, we love it and have been waiting a long time for this come out.
Also, DFA says you can go to their Facebook Page to "enter to win one of 4 Pylon prize packs, including CD copies of both of their albums with the new 7-inch."
Music and love,
Pylon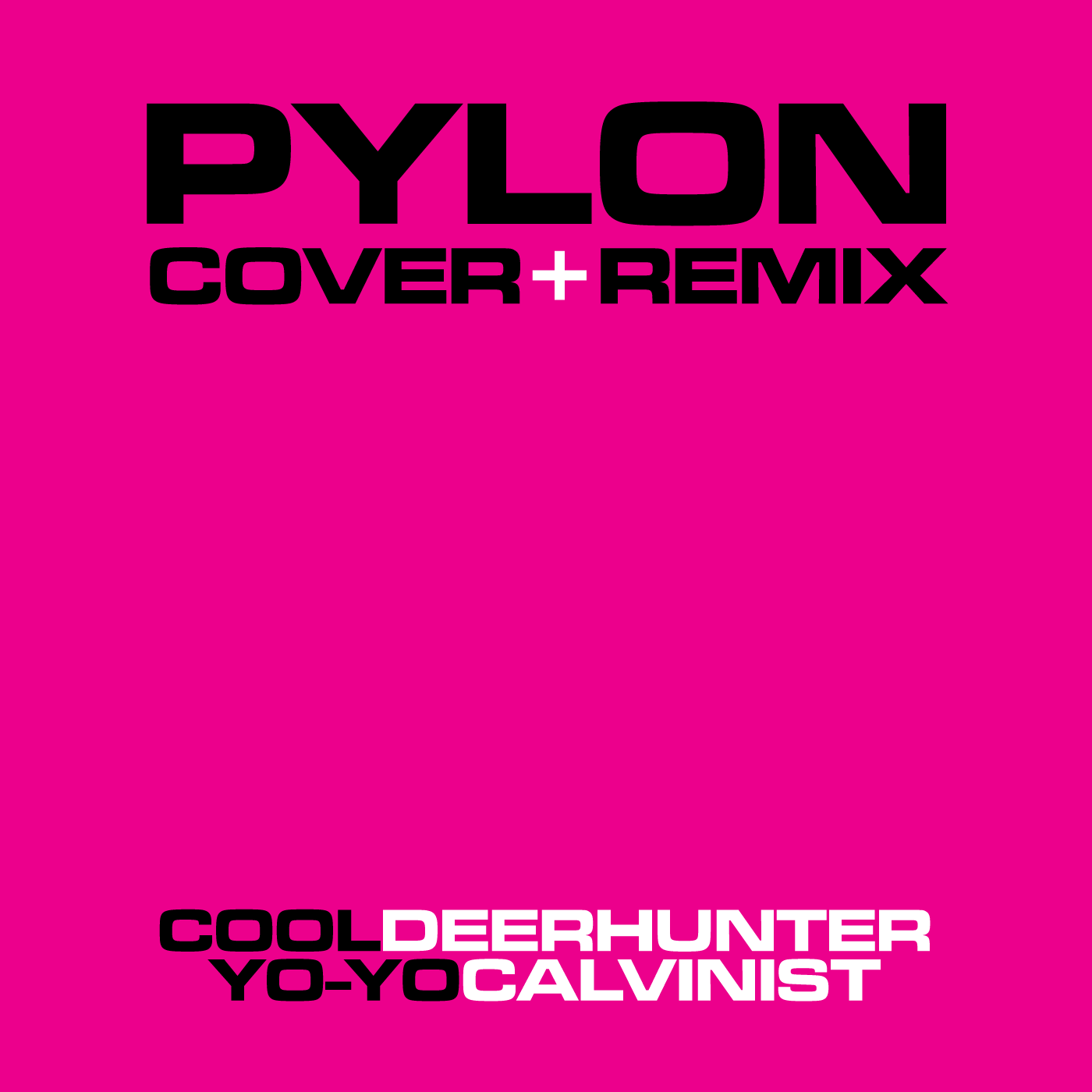 ---
Subject: Chomp More by 

Pylon

 is out on CD!
Date: Mon, 19 Oct 2009 21:54:03 -0700
From: 

PYLON

 <hello@wearepylon.com>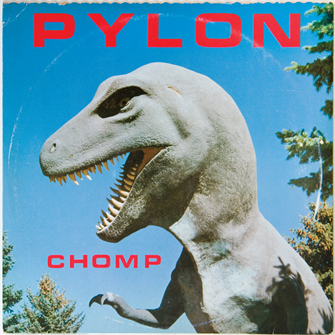 It's out!
Chomp is now available, remastered by Pylon.
On DFA Records on CD + digital. It's up on iTunes now.
Containing 4 additional tracks, dedicated to Randy Bewley.
Links for purchase and other stuff on our website.
Join us on Facebook for more.
---
Subject: Vanessa's Supercluster CD "Waves" now available!
Date: Wed, 07 Oct 2009 20:31:03 -0700
From: 

PYLON

 <hello@wearepylon.com>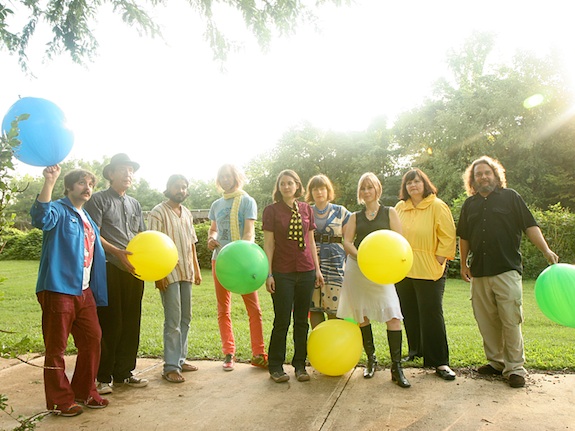 Vanessa Hay of Pylon and Hannah Jones started this band, Supercluster.
One member was Randy Bewley of Pylon.
Their debut CD is out now, entitled Waves.
They have upcoming shows to celebrate the CD release:
October 22 at EARL in Atlanta, October 23 at Little Kings in Athens.
Order the CD at athensmusic.net.
Become a fan of the Supercluster Facebook Page for more info.
Peep their window display at Wuxtry Athens.
The music keeps going on…
This email from Pylon, PO Box 749, Athens, GA 30603.
WEAREPYLON.COM
Pylon Facebook Page
---
Subject: Randy's Birthday tribute at 40 Watt July 25
Date: Mon, 13 Jul 2009 11:14:03 -0700
From: 

PYLON

 <hello@wearepylon.com>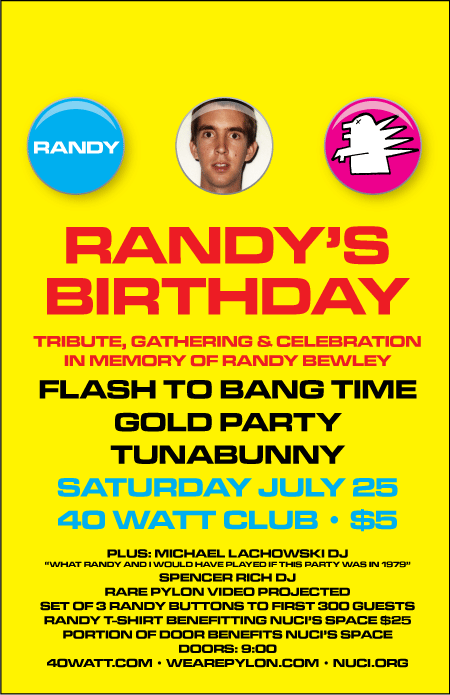 ---
Subject: 

Pylon

's Randy shirt, our own magazine tribute, Athfest presence
Date: Tue, 23 Jun 2009 13:28:03 -0700
From: 

PYLON

 <hello@wearepylon.com>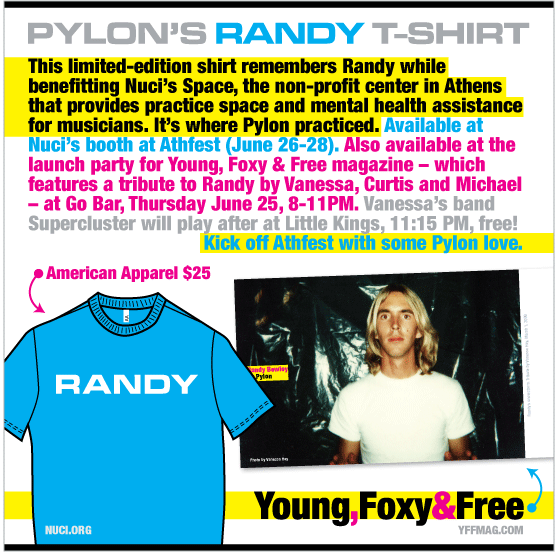 Pylon's new limited-edition shirt remembers Randy while benefitting Nuci's Space, the non-profit center in Athens that provides practice space and mental health assistance for musicians. It's where Pylon practiced. Available at Nuci's booth at Athfest (June 26-28). Also available at the launch party for Young, Foxy & Free magazine – which features a tribute to Randy by Vanessa, Curtis and Michael – at Go Bar, Thursday June 25, 8-11PM. Vanessa's band Supercluster will play after at Little Kings, 11:15 PM, free! Kick off Athfest with some Pylon love.
http://yffmag.com
----------
This email is from Pylon Music, LLC - PO Box 749, Athens, GA 30603
---
Randy Bewley is Dead
Subject: We love Randy
Date: Wed, 25 Feb 2009 19:46:03 -0600
From: "Michael Lachowski" <hello@wearepylon.com>
This past Monday evening, Randy Bewley had a heart attack while driving his van on Barber Street in Athens, GA. He was taken to Athens Regional Medical Center. Today, our bandmate and brother passed away at a little before 5 p.m. with his family and friends at his side. He will be missed, even as we celebrate his life and creativity. His guitar sound was as special as he was and always will be. Randy's guitar work defined not only a generation of sound but Randy himself. His visual art, painting and photos, combined with his signature sound formed a loose set of boundaries that helps understand him. His quiet devotion to family and friends will become a benchmark for those he leaves behind.
Related Stories
---
Subject: Free download of Cool at Village Voice.com
Date: Sat, 13 Dec 2008 22:43:02 -0600
From: "

PYLON

" <hello@wearepylon.com>
We did an interview with Rob Trucks at the Village Voice, and he suggested that we give away a song. So for about a week, you can download Cool for free from Pylon, DFA Records and the Village Voice.

While you're there, if you can stand it, there is a long interview by Rob Trucks with Randy and Michael. "Like, you know?"

http://blogs.villagevoice.com/music/archives/2008/12/interview_pylon.php

We're off to New York...

--Pylon
---
Subject: 

Pylon

 on Facebook and in New York
Date: Wed, 10 Dec 2008 17:48:03 -0600
From: "

PYLON

" <hello@wearepylon.com>
Pylon

has a new Facebook page and is playing in New York on December 15.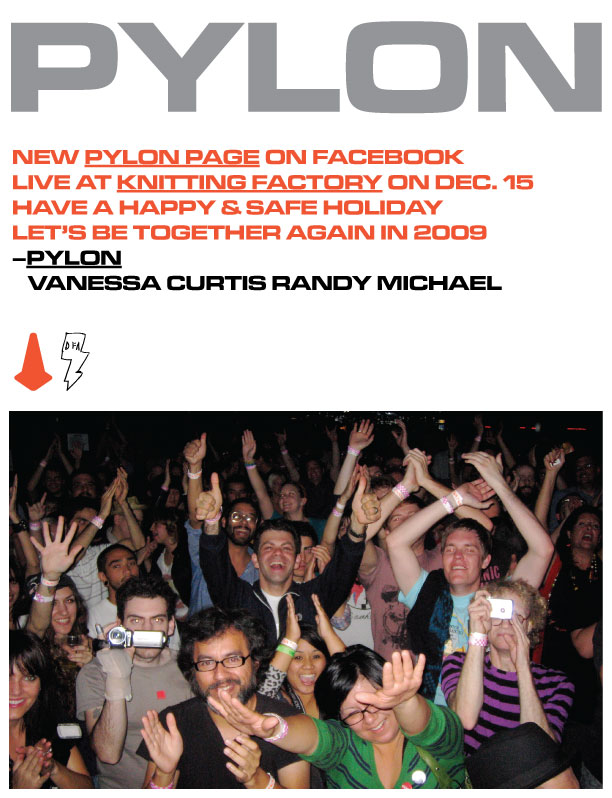 ---
Subject: 

Pylon

 in New York on December 15
Date: Sun, 23 Nov 2008 10:49:02 -0600
From: "

PYLON

" <hello@wearepylon.com>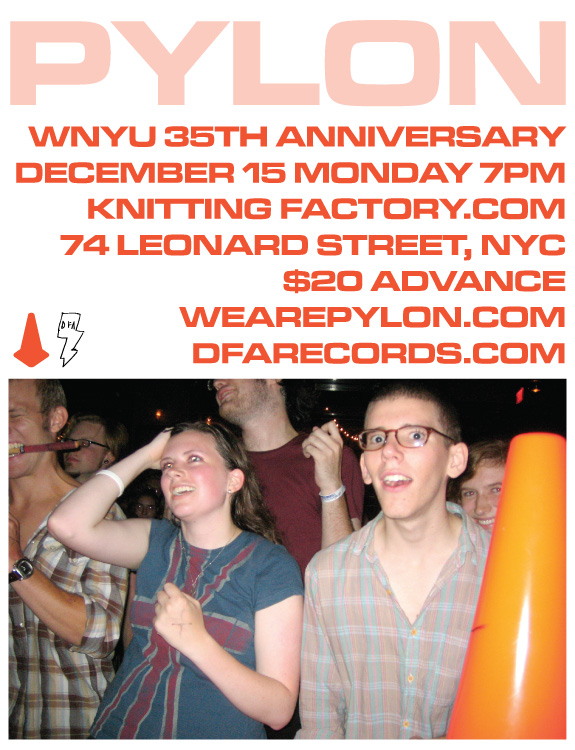 PYLON
WNYU 35TH ANNIVERSARY
DECEMBER 15 MONDAY 7PM
74 LEONARD STREET, NYC
$20 ADVANCE
WEAREPYLON.COM
DFARECORDS.COM
---
Subject: 

Pylon

 plays San Francisco on Tuesday
Date: Thu, 13 Nov 2008 17:06:03 -0600
From: "

PYLON

" <hello@wearepylon.com>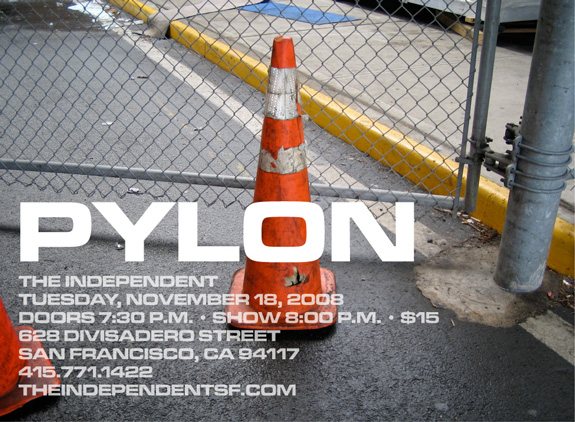 Pylon will headline at The Independent in San Francisco on Tuesday. Our set time is around 9:15. We'll be there with some copies of Gyrate Plus (DFA Records) and t-shirts for sale. Please spread the word!
---
Subject: 

Pylon

 plays Los Angeles on Sunday
Date: Thu, 13 Nov 2008 17:01:02 -0600
From: "

PYLON

" <hello@wearepylon.com>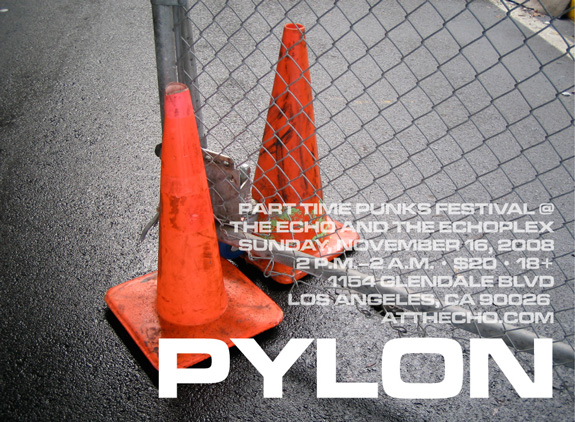 Pylon and A Certain Ratio at the top of the bill of Part Time Punks Festival at Echo in Los Angeles. Here's the lineup and schedule (tentative):

Doors 2pm
Echo
2:30-3pm: SOFTBOILED EGGIES
3:20-4pm: WARPAINT
4:30-5:10: GRIMBLE GRUMBLE
5;30- 6:15 MAGIC BULLETS
6:35-7:15: THE NIGHTINGALES
7:35-8:15: NERVOUS GENDER
8:30: SAVAGEREPUBLIC
9:30: ARIEL PINK
10:30 djs
Echoplex
3:10-3:40. THE WILD STARES
4pm-4:30: THE URINALS
4:50-5:30: THE MUSLIMS
5:45-6:15: VIVIAN GIRLS
6:40- 7:20 MEDIUM MEDIUM
7:45 -8:40.LOVE IS ALL
9pm-10pm. PYLON
10:15. A CERTAIN RATIO
11:30pm djs

Spread the word! Pylon will be there with some Gyrate Plus CD's (DFA Records) and t-shirts.
---
Subject: 

Pylon

 with Deerhunter on Hallloween in ATL
Date: Tue, 14 Oct 2008 22:52:04 -0500
From: "

PYLON

" <hello@wearepylon.com>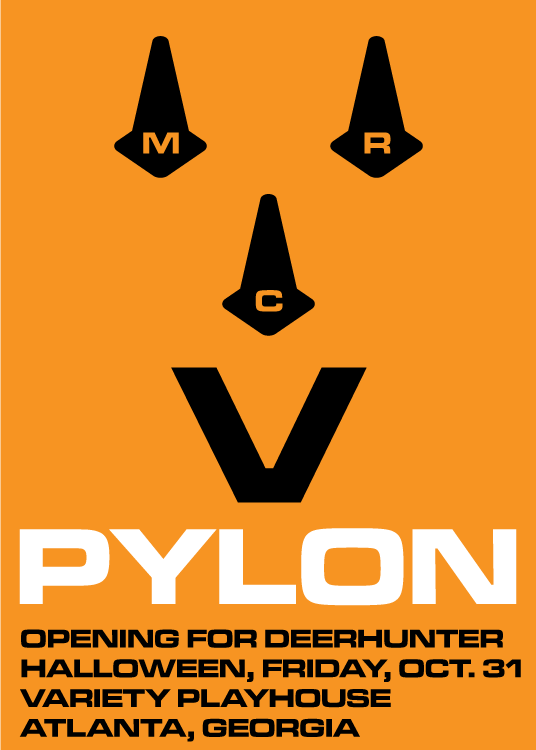 Pylon
Opening for Deerhunter
Halloween, Friday, Oct. 31
Variety Playhouse
Atlanta, GA
---
Subject: 

Pylon

 in LA on November 16
Date: Thu, 16 Oct 2008 20:46:02 -0500
From: "

PYLON

" <hello@wearepylon.com>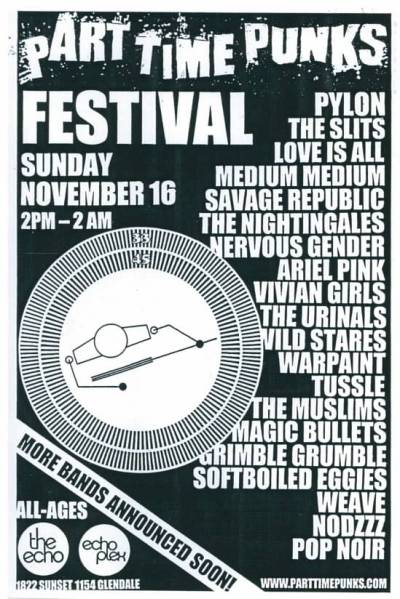 Also in SF on November 18. More details to follow!
---

Subject: 

Pylon

 at Melting Point - Thurs September 4
Date: Fri, 22 Aug 2008 09:18:02 -0500
From: "

PYLON

" <hello@wearepylon.com>

Pylon appearing live at the Melting Point
Thursday, September 4
with The Buddy System
Doors 6:00, Music 8:30
Tickets $10 advance, $12 door
Available at 706-254-6909 or meltingpointathens.com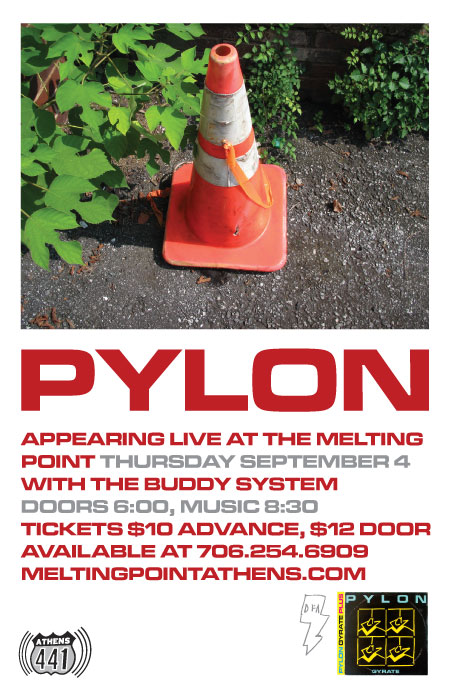 ---

Subject: 

Pylon

 live in Winston-Salem August 8
Date: Wed, 16 Jul 2008 12:36:03 -0500
From: "

Pylon

" <hello@wearepylon.com>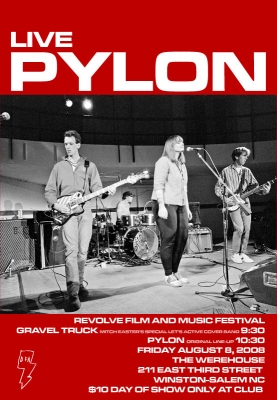 Pylon: live
Revolve Film and Music Festival
Gravel Truck Mitch Easter's special Let's Active cover band 9:30
Pylon original line-up 10:30
Friday August 8, 2008
The Werehouse
211 East Third Street
Winston-Salem NC
$10 day of show only at club

Club info and directions: krankiescoffee.com
Also see: revolvefestival.com
mitcheaster.com – myspace.com/mitcheasterband
wearepylon.com
myspace.com/dfarecords
---

Subject: Athens music films Wednesday -- featuring 

Pylon


Date: Tue, 17 Jun 2008 13:56:03 -0500
From: "

Pylon

" <hello@wearepylon.com>

As part of AthFest 2008, the wonderful downtown cinema in Athens -- Cine -- has two offerings on Wednesday, June 18. Both will include Pylon!

"Athens Picture Show"
Wednesday, June 18 only
Showtimes 7:00p and 10:30p
Admission $5, or free with AthFest wristband
• R.E.M. at Stitchcraft 1985 (excerpt from film Just Like A Movie by Laura Levine)
• Pylon & Love Tractor at Mad Hatter 1984 (Pylon's first "last show")
• The Side Effects at Tyrone's OC 1980
• The B-52's at the Downtown Cafe 1978

"Athens GA, Inside/Out"
Wednesday, June 18 only
Showtime 8:00p
Admission $5, or free with AthFest wristband
• screening of the 1987 film about the Athens music scene
• Panel discussion with Paul Butchart, Ort Carlton, Bob and Vanessa Hay (Pylon), Michael Lachowski (Pylon), others
• Live performance by Dexter Romweber

For more information, go to http://athenscine.com
---
Subject: 

Pylon

 Mercury Lounge Show online tonight
Date: Wed, 20 Feb 2008 10:08:03 -0600
From: "Michael Lachowski" <hello@wearepylon.com>
Pylon was recorded for the Virtual Lower East Side website at the Mercury Lounge back in November.
If you missed us on our recent tour to promote Gyrate Plus, here's your chance to catch us live.

It airs tonight for the first time at 8 pm [UTC-05:00]:

http://www.vles.com/node/30818
---
2008-01-29: The virtual place to be is Pylon's MySpace. Here's a cut-n-paste of an easy-to-overlook set of links there:
PYLON

MERCHANDISE
RECORD REVIEWS
LIVE REVIEWS
AUDIO INTERVIEW
2008-01-07: HARP magazine published an interview.
2007-12-16: deadlydesigns.com published photos of the 2007-12-07 40 Watt gig.
Date: Fri, 07 Dec 2007 12:43:04 -0600
From: "

Pylon

" <hello@wearepylon.com>
Subject: For 

Pylon

, this is The Show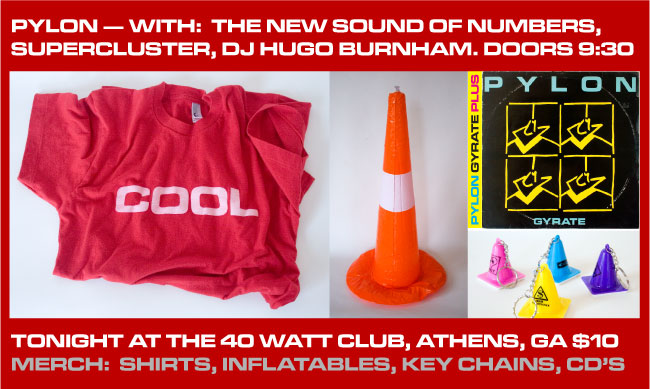 2007-12-06: Well-Rounded Radio published "music and conversation with Pylon".
Subject: 

Pylon

 live at 40 Watt on Friday
Date: Tue, 04 Dec 2007 10:16:02 -0600
From: "

Pylon

" <hello@wearepylon.com>

Date: Tue, 30 Oct 2007 13:59:02 -0600
From: "

Pylon

" <hello@wearepylon.com>
Subject: 

Pylon

 live tour dates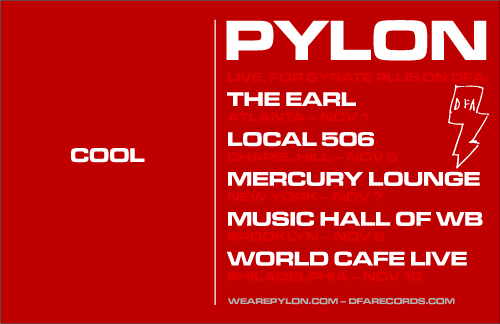 2007-10-23: In the wake of Gyrate Plus's release: Pylon's MySpace has a nice "About" writeup. deadlydesigns.com published photos of the Gyrate Plus release and signing event at Wuxtry Records. Mojo magazine published an homage by Mike Mills in its November 2007 issue. Flagpole published an interview with Michael. The Village Voice published a review.
Date: Sun, 14 Oct 2007 21:52:06 -0500
From: "Michael Lachowski" <hello@wearepylon.com>
Subject: 

Pylon

 CD signing session on Monday night

Hey, the DFA Records release of Gyrate Plus is coming on Tuesday,
October 16! The members of 

Pylon

 will be at Wuxtry Records in downtown
Athens, Georgia on Monday for a midnight record release and signing
session. Starting at 11:00 PM until 1:00 AM, we'll be there at 197 E.
Clayton Street. Also check out our window installation that will be up
for about a month.
2007-10-03: it appears that Vanessa's MySpace and Vanessa's Blog are the best sources for Pylon news these days. Recent entries announce a northeast tour and a 2007-11-07 show at the Mercury Lounge in New York City.
On 2007-10-03 [and coincidental to the above note], Pylon announced via email the Mercury Lounge gig and an October 16 release date for the Gyrate reissue.
On 2007-04-03, a cryptic message was sent to the wearepylon mail list. Could Pylon be playing at the "Little Kings" space at Hancock and Hull? Yes! See Pylon's MySpace page friends comments starting Apr 5 2007, Vanessa's version, and the deadlydesigns photo gallery.
Gyrate Re-Release
On 2007-02-23, Vanessa announced plans to re-release Gyrate through DFA Records. The re-release is "tentatively scheduled" for Fall 2007.
Pylon

Reunites!

On 2004-08-05, Pylon reunited for a one-shot show in Athens, Georgia, USA. The Day Jobs published a teaser, photos and notes. They report on plans for a two-disc set in the coming year. They also note an upcoming interview and Pylon's website.

On 2004-08-12, Creative Loafing published a brief article about the show, "Pylon rides the M-Train again".

On 2004-08-18, Flagpole published two reports on the reunion show, "It's Alright, Pylon Is Here (Again)", which includes an interview, and "Rocking Is No Problem".

Thanks to the aolnymous person who sent a photo and movie from the scene. They will be posted eventually, along with a silly story about my "reunion experience."

On 2004-12-31, Pylon performed at the 40 Watt Club. Flagpole published a preview article, "Pillar Of The Community". tch3 published a nice photo album.

On 2005-04-21, Pylon performed at the Atlanta Heroes Awards.

On 2005-06-24, Pylon performed at AthFest.

On 2005-07-07, Pylon performed at The Earl in Atlanta.

On 2005-07-29, Pylon and Oh-OK performed at Rewind.

On 2005-08-12, Pylon performed at Popfest.

On 2005-09-29, Pylon performed at Nuçi's Space.
Was this web page responsible for
Pylon

's reunion?

Let's see: website goes up, various members of Pylon correspond, we hook up Mark Maynard for interview, interview is reprinted in Flagpole, Randy sends email noting refound fame, Pylon reunites. Hmmm.

(Vanessa responded on 2005-03-15: "Of course you should take credit for taking part in the chain of events that allowed Pylon to re-unite. Thank you so much for your support.")
Pre-Reunion News
In December, 2002, Mark Maynard published an interview with Pylon in his magazine, Crimewave U.S.A. We reprint the interview with his kind permission. Flagpole reprinted the interview in its 03/12/2003 edition.
On 06/17/2002, Vanessa wrote, "There will be an exhibit that opens later this month called Party Out of Bounds in Macon, GA at the Ga Music Hall of Fame. It will run through August. We loaned some stuff to the Georgia Music Hall of Fame as did many other Athens bands."
On 07/23/2001, a friend of Michael's wrote, "...in addition to his work as a DJ and graphic designer, he is now very involoved in creating a techno scene in Athens as well. You can check out his latest stuff and drop him a line at www.candysticker.com."
I wondered what happened to the members of Pylon after the band broke up. Luckily, Vanessa found my Pylon page and we exchanged some email. Vanessa told me this on June 25, 1999:
Vanessa is a registered nurse, the mother of two girls and married to Bob Hay, the former guitarist for the Squalls.

Randy is the father of two boys and teaches art at an elementary school.

Curtis is the father of a boy and a girl and works for TV shows and movies as a carpenter.

Michael has a graphic design agency and DJ's at Athens-area clubs.

None of the members of Pylon is making music.
Pylon

Pages
Archives of This Pylon Site
… at the Internet Archive Wayback Machine
Who's linkin'? Who's linkin' to the out-of-date URL? (According to OpenLinkProfiler.org.)
Movies:
Photos, etc.:
http://images.artistdirect.com/Images/Sources/AMGPORTRAITS/music/portrait200/drp000/p020/p02091e2524.jpg
https://www.netnik.com/jollybeggars/img/20070123105155.jpg

http://www.furious.com/perfect/graphics/pylon2.jpg

img/pylon-nc80.gif

img/pylon.jpg

This photo appears on the cover of Backstage, the newsletter of the Georgia Music Hall of Fame, published c. June, 2002. Courtesy of Vanessa.
www.flagpole.com/images/jpgs/2003/03/12/pylon-michaelandrandy.jpg via Wayback Machine

www.flagpole.com/images/jpgs/2003/03/12/pylon-vanessaandrandy.jpg via Wayback Machine

www.flagpole.com/images/jpgs/2003/03/12/pylon-randy.jpg via Wayback Machine

Photos at deadlydesigns.com

2007-12-07 @ 40 Watt at deadlydesigns.com

2007-11-01 @ The Earl at deadlydesigns.com

2008-09-04 @ The Melting Point at deadlydesigns.com

Village Voice images

Ye Moderne Technology

In 1992, I encountered a Muze kiosk in the Tower Records Pasadena (California, USA) store. You entered the names of artists or recordings. The kiosk searched. You selected a subset of the search. The kiosk spit out a piece of paper with your selections. The paper told you where you could find the recording in the store. Presumably, if the recording was not in stock, a store employee could scan the bar code on the paper and place a special order. W00t! Of course, I looked up my favorite band.
Recording covers:
Live
Gravity b/w Weather Radio
https://f4.bcbits.com/img/a2407865936_2.jpg

Cover+Remix
Chomp More
Gyrate Plus:
https://villagevoice.freetls.fastly.net/wp-content/uploads/2008/12/pylon_gyrate_photo_front_400.jpg

http://is1.mzstatic.com/image/thumb/Music3/v4/78/77/b0/7877b0d3-6100-a558-7e56-3f1f6db54763/source/600x600bb.jpg
Pylon
img/pylon288.png

img/pylonb288.png

Gyrate
img/gyrate288.png

img/gyrateb288.png

img/gyratesleeve288.png

img/gyratesleeveb288.png

img/gyratelabel288.png

img/gyratelabelb288.png

Chomp
https://3.bp.blogspot.com/-FMacAutFGm0/UHYkqQb-jXI/AAAAAAAABb4/q_FEAElVoek/s1600/Pylon-Chomp-LP-cover.jpg

Hits
img/3243100912000-large.jpg

Chain
Singles
Pylon

Track Lists and Hits Cross-Reference

Want to program that CD player to play Hits in their original order? Refer to the first column!

The Hits liner notes indicate that track 18, "Recent Title," is from Gyrate, but that track is not on my copy of Gyrate. On February 23, 2001, a correspondent informed me that there are two versions of Gyrate. One version, which the correspondent bought around ten years after I bought mine, contains "Recent Title" in place of "Driving School" on side 2, track 1.
Release
Hits
Side
Track
Title
Cool/Dub 7-inch single, 1979
2
1
1
Cool
3
2
1
Dub
Pylon 10-inch EP, AEP 12004, 1980
2
1
1
Cool
3
1
2
Dub
12
2
1
Driving School
7
2
2
Danger!!
Gyrate 12-inch LP, DB 54, 1980
4
1
1
Volume
9
1
2
Feast on My Heart
1
3
Precaution
20
1
4
Weather Radio
15
1
5
The Human Body
16
1
6
Read a Book
12
2
1
Driving School
[18
2
1
Recent Title (Replaces "Driving School" on later release(s).)]
6
2
2
Gravity
7
2
3
Danger
19
2
4
Working Is No Problem
8
2
5
Stop It
Crazy/M-Train 7-inch single, DB 61, 1981
13
1
1
Crazy
10
2
1
M-Train
Beep/Altitude/Four Minutes 12-inch single, DB 62, 1982
1
1
1
Beep
5
1
2
Altitude
2
1
Four Minutes
Chomp 12-inch LP, DB 65, 1983
11
1
1
K
14
1
2
Yo-Yo
1
1
3
Beep
1
4
Italian Movie Theme
13
1
5
Crazy
10
1
6
M-Train
2
1
Buzz
17
2
2
No Clocks
2
3
Reptiles
2
4
Spider
2
5
Gyrate
5
2
6
Altitude
Hits CD, DB 91, 1989
1
1
Beep
1
2
Cool
1
3
Dub
1
4
Volume
1
5
Altitude
1
6
Gravity
1
7
Danger
1
8
Stop It
1
9
Feast on My Heart
1
10
M-Train
1
11
K
1
12
Driving School
1
13
Crazy
1
14
Yo-Yo
1
15
The Human Body
1
16
Read a Book
1
17
No Clocks
1
18
Recent Title
1
19
Working Is No Problem
1
20
Weather Radio
Chain CD, Sky Records 7-2020-2, 1990
1
1
Look Alive
1
2
Catch
1
3
B-Complex
1
4
Sugarpop
1
5
There It Is
1
6
Springtime
1
7
This / That
1
8
Go
1
9
Crunch
1
10
Very Right
1
11
Metal
1
12
Outside
1
13
Sloganistic
Weasel Words
This is a fan site.
Pylon has its own website and Facebook presence.
No endorsement of the sites listed here is expressed or implied.
The preferred URL for this page is https://pylon.pyrzqxgl.com/.
Comments? Questions? Email to pylon(at)pyrzqxgl(dot)com.
2018-08-08: we added a "PYLON Eurostile" alternate style sheet.
---
Created  1995-11-09 15:49-08:00
Modified 2023-01-12 16:13-05:00